Sequence stratigraphy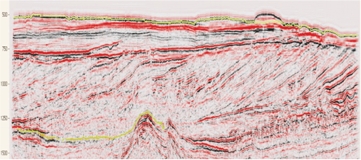 Sequence stratigraphy is study of genetically related strata. The sequence is defined as a relatively conformable genetically related strata bounded by unconformities or their correlative conformity (Mitchum, 1977). Log sequence stratigraphic analysis of the rock formations, combined with seismic sequence stratigraphic interpretation, can provide a powerful predictive tool for exploration and development reservoir work.
Sequence stratigraphy is a powerful tool in exploration for stratigraphic (non-structure) traps.
In recent decades there has been a growing shortage of newly discovered structural prospects, and smaller structural plays are left explored.
At the same time the exploration of non-structural prospects has not expanded to fill this.
This lack of uptake is due to both – healthy conservatism, due to high risks, and the lack of a well-developed exploration methodology for this type of trap.
Sequence stratigraphy helps predict geologic aspects of sedimentary basins at different historical stages and therefore provides an opportunity for efficient development of non-structural plays.
Sequence stratigraphic approach to interpretation, leads to a better understanding of basin development and a more reliable mapping of reservoir and seal distribution. With the additional information this brings source rocks can be identified and their distribution mapped. Reservoir properties, an important issue in field development, can in most cases be predicted based on the sequence stratigraphy interpreted framework. This is particularity important for exploration projects.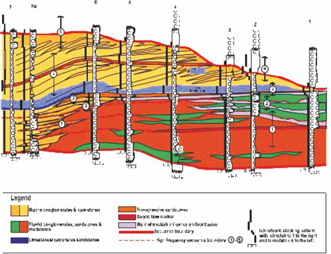 Sequence stratigraphy has many components:
Sequence stratigraphic interpretation of well log data
Sequence stratigraphic interpretation of seismic data in particular with possible total correlation of all reflections in a seismic cube
Sequence stratigraphic interpretation of seismic attribute data and the integration of results with interpretations of well log and seismic data
Log Data
Detailed core descriptions
Sedimentological interpretation from core
Realisation of the depositional environment by integration of well log and image data, together with sedimentology from core
Sequence stratigraphic framework from all or some of the above
Facies maps
Seismic Data
Seismic sequence boundaries
Seismic facies analysis and interpretation
Seismically derived depositional environment interpretation
Characterisation of depositional bodies from seismic attributes
We have broad experience in sequence stratigraphy interpretation from various basins and various depositional environments. Our specialists, and where needed, with involvement of our partners, can deliver a full spectra of sequence stratigraphic interpretations.