Petrophysics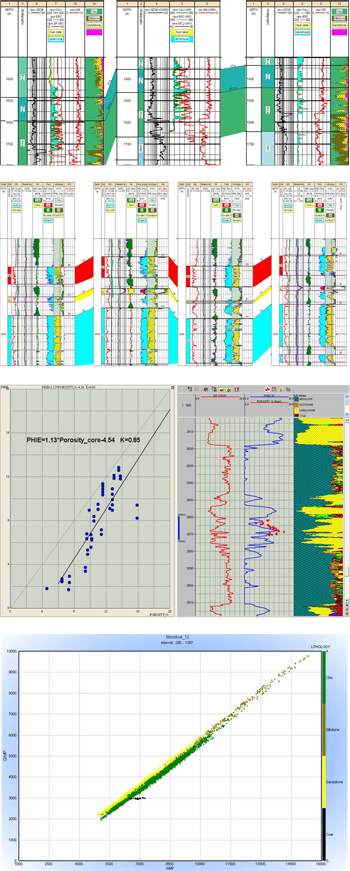 Our petrophysicists possess all necessary expertise for comprehensive quantitative interpretation of log data, this can be from clastic, carbonate or mixed deposits sections and with interval definition from lithology, pore volume or formation fluid type. Log data interpretation includes all stages; from preliminary preparation of log data and log digitizing, leading to operative (with results in 24 hours) and onto advanced interpretation. We can work with any type of log data, acquired by any tools – Schlumberger, Baker Hughes, Weatherford, Halliburton or by Russian log tools.
The range of services offered by our petrophysics department includes, but is not limited to the following:
Well Log Digitizing
Log curves normalization
Calculation of Synthetics
Corrections for measurements conditions
Definition of reservoir intervals
Assessment of Mineral content of reservoir and surrounding rocks
Assessment of Reservoir properties such as porosity, permeability, saturation
Formation fluid definition with Pixler and Haworth palettes
Log-to-core tie
Definition of Reservoir cut-offs for reserves estimation
Drafting of log data interpretation and reservoir properties chapters for Reserves Reports
Formation stratigraphy partitioning – classical and litho-stratigraphic (Lloyd's Register Interactive Petrophysics package), chrono-stratigraphic (ENRES Cyclolog and Lloyd's Register Interactive Correlations packages), seismostratigraphic (Eliis PaleoScan package)
Preparation and justification of reservoir properties figures for Oil and Gas Reserves Estimation
Preparation of log data for seismic-well tie and justification of seismic inversion data characterization
Modelling and the analysis of technical feasibility studies and creation of geophysical curves for evaluation of AVO attributes, inversion and seismic parameters
---

Log data processing and interpretation packages
Neuralog – for log data digitizing
LogTools – for interpretation of Russian and Western logs
Geotrace Tigress – for interpretation of Western logs
Lloyd's Register Interactive Petrophysics (IP) – for interpretation of Russian and Western logs
CGG Power Log – for interpretation of Western logs
Lloyd's Register Interactive Correlations (IC) – for integration of all available well information, well correlation and mapping of lateral dependences
These software packages are used for multi-component lithology interpretation, modeling, crossplotting, clay content, reservoir properties and saturation type definition within the study interval. Additionally, we perform well log conditioning, editing and normalization for further analysis of facies and formation zonation taking into account core data.Feasibility studies including generation of geophysical curves used for evaluation and interpretation of AVO attributes, inversion, and seismic attributes are the mandatory and standard procedures for all our projects. Fluid substitution modeling is another very important procedure used for evaluating the 4D effects as well as for exploration purposes and for definition of IOR potential.
Our petrophysicists have very rich experience in well data interpretation in all hydrocarbon basins in Kazakhstan and beyond, this enables them to perform precise definition and analysis of reservoir intervals in the most complicated of geological conditions.